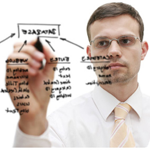 Custom Software Development
Allpro Technology specializes in advanced software design and development. We have designed a wide range of custom software solutions, from simple payroll systems to enterprise government databases. Regardless of the size of your business, Allpro Technology can help design and develop a custom solution to meet your needs.
Our Primary Development Tools Are:
Microsoft Visual Studio
Microsoft Access
Microsoft SQL Server
Adobe Dreamweaver
Software Development Rates:
Custom software systems range in price depending on the amount of time required to design and develop the system and the difficulty. We have developed over 25 custom software modules. We can often combine existing modules and make required changes to meet your needs. This gives us the ability to provide you with a complex software solution at a great price.
Hourly rates range from $35 to $75. Free estimates are available.