Permit Management Software
Allpro PermitPlus Tour - Page 4
Working with Building Permits
The Building Permits form is where you manage all of the information related to building permits. This form provides you with everything you need from entering application information to issuing the certificate of occupancy. To make the interface easier to work with, this form is broke up into several different tabs.

The first tab contains all of the basic information you will need to track for a building permit. You will notice that there is a drop down box for the Location ID, Property Owner, Contractor, and Architect fields. This makes the data entry process very simple. For example, if "A & P Contractors" is the contractor that will be working on this project, you simply select them from the list. Then all of their information will be pulled from the Contractors form. You are never required to reenter the same information more than once. This also helps cut down on typing errors. Allpro PermitPlus verifies that you have selected a valid contractor. If you have not, you will receive a warning message informing you that you need to setup a new contractor.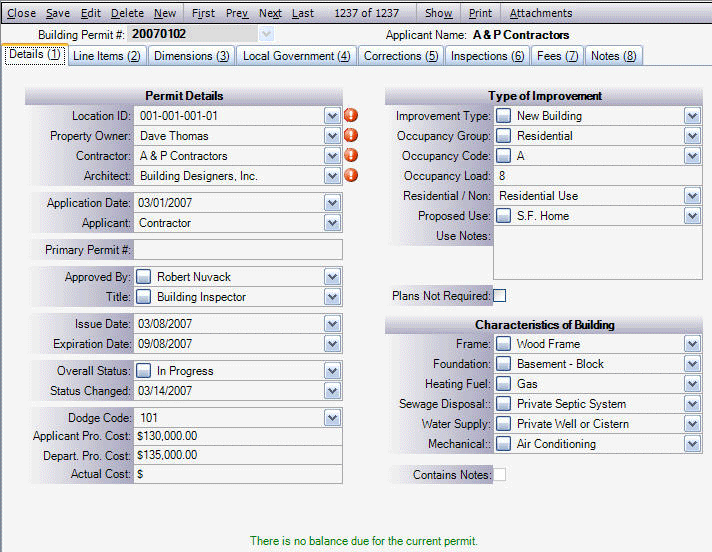 As you can see, there is a drop down arrow to the right of most fields. You have complete control over what appears in the drop down list. You simply select the button to the left of the field and a popup window will appear. This window allows you to edit the items that appear in the drop down list. Once you have your lists setup, you just start typing and the information will fill in for you. By entering data that is in a list as apposed to just manually typing in data, you will greatly speed up the data entry process and also greatly cut down on typing errors.